GAME NAME: The Walking Dead: Episode 2
DEVELOPER(S): Telltale Games
PUBLISHER(S): Telltale Games
PLATFORM(S): Xbox Live Arcade
GENRE(S): Adventure, Action, Role-Playing
RELEASE DATE(S): 6/27/12
OK everyone, here is the low down on The Walking Dead: Episode 2. If you don't know the story so far go read my other review and buy the game. I love these games so far especially this new episode. What the walking dead is about is putting you in a tough position and making you pick between life and death multiple times. Now that said, characters within the game will know what you did and will remember the choices you make so everyone's game will be a little different.
The story begins where you left off from Episode 1, at the motel where it's not the Zombies/monsters that are killing you it's the lack of food and water. The solution? You go out to hunt for anything you can find in the nearby forest. Without giving the story away, you meet some new people, there is a bear trap and then zombies come to eat, its clearly awesome. Obviously that is a non spoiler summarization. When you get back to the motel you meet a couple of dairy farmers that can provide food and shelter in exchange for gas. They have an electric fence around their entire property, so you get to see some crispy zombies. Sorry folks can't tell you anymore about the story, you'll just have to buy it and play it because this is where the story gets excellent.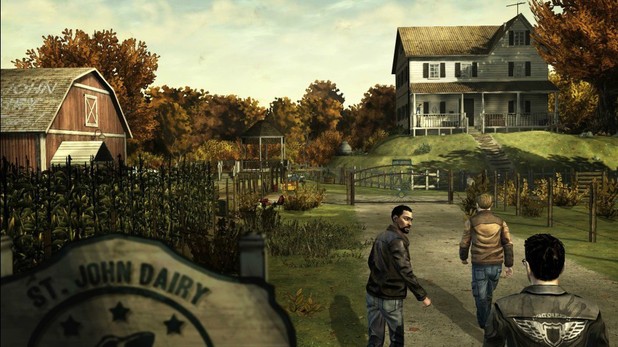 So what do I think about this game? It has to be one of the best written stories I have ever played. Gameplay and graphics are excellent, it plays and responds just like Episode 1. This game makes you think and make life and death choices in seconds with the great comic style graphics. Sure enough, it keeps you entertained and on your toes. While playing you can hear that the sound is excellent in 5.1 surround sound. I believe that you currently cannot find a better story driven game than this, and I can't wait for the next episode.